UPDATE  This was originally posted Feb 7, 2009. Not much has changed except for Windows. I still use many of the same tools that I did in 2009.
I found some more cool stuff on YouTube. There are a few things you should do on a regular basis- at least once a week.I use Avast Anti-Virus. It's a free program and has caught more things than any other that I have used. The programs below are also free programs which keep your PC running smoothly and are among the best out there either free or paid.
Microsoft Windows Tutorials : How to Defragment a Hard Drive
Troubleshoot with Windows Task Manager
This video shows you how to make stubborn programs stop running, speed up your PC's startup, and more.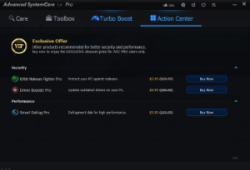 The screenshots are of Advanced System Care- a tool for keeping your computer running like new, As you can see that even the free version has a lot of features.
A  tip before upgrading from a free program:Download and install the free version first- You will often get a discount on the upgrade over buying it outright- Not always, but 9 times out of 10 you will.
If you would like to see more videos like these, please comment below. Check out the last image. You can get a HUGE discount from checking out different areas of a program.